Senator, United States Senate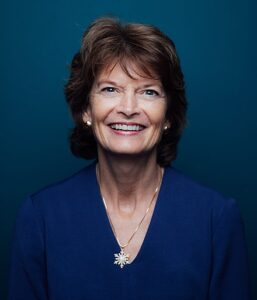 Description
Senator Lisa Murkowski is the first Alaskan born Senator to serve the State and only the sixth United States Senator from Alaska. Murkowski is a third generation Alaskan, born in Ketchikan and raised in towns across the state: Wrangell, Juneau, Fairbanks and Anchorage. Since joining the Senate in 2002, Senator Murkowski has already made many strides on issues facing Alaskans. As she advocates for legislation on the Senate floor, her passion for improving the state of health care, education, energy, Veteran's affairs, and infrastructure development in Alaska is unquestionable.
Only the 33rd female to serve in the United States Senate since its founding in 1789, Senator Murkowski has assumed leadership roles quickly in the Senate, being selected to serve as a Deputy Whip, to assist the Majority Whip on voting strategy and other leadership functions, and as Chairman of the class of new Senators elected in 2002.
Concerned about the state's unemployment rate—the highest in the country—Senator Murkowski is committed to returning economic stability and jobs to Alaska. Her work to open ANWR and build the Alaska natural gas pipeline demonstrates her commitment to growth in the state, as well as an understanding of the country's energy needs.
A member of the Senate Energy and Natural Resources Committee, Senator Murkowski chairs its subcommittee on Water and Power, as well as serves on the subcommittees for Energy, National Parks, and Public Lands and Forests. She also serves on the Senate Foreign Relations committee where she is chairman for the subcommittee on East Asian and Pacific Affairs, as well as a member of the subcommittees for African Affairs, European Affairs, and International Economic Policy, Export, and Trade Promotion. Additionally, she is a member of the Indian Affairs Committee and the Senate Environment and Public Works Committee, serving on its subcommittees for Transportation and Infrastructure and Fisheries, Wildlife, and Water.
She earned a BA in economics from Georgetown University in 1980 and then returned to Juneau to work as a legislative aide, also becoming active in state Republican politics. In 1985 she graduated with a law degree from Willamette University and became a member of the Alaska Bar Association in 1987. She served as Anchorage District Court attorney for two years and then worked in Alaska commercial law for eight years before opening her own practice. Murkowski was elected to three terms in the Alaska State House of Representatives, beginning in 1998, and was named House Majority Leader during the 2003-2004 term. While serving in the State House, Murkowski sat on the Alaska Commission on Post Secondary Education and chaired both the Labor and Commerce and the Military and Veterans Affairs Committees. In 1999 she introduced legislation establishing a Joint Armed Services Committee, where she also served. After being appointed to the Senate on December 20, 2002, Senator Murkowski was elected to a full six-year Senate term in November 2004.
Brief Biography:
Senator Lisa Murkowski
Born: Ketchikan, AK
Husband: Verne Martell
Children: Two sons, Nicolas and Matt
Education
High School: Monroe High School, Fairbanks, AK
Economics Degree, Georgetown University
Juris Doctor, Willamette College of Law
Senate Committee Assignments:
Committee on Energy and Natural Resources
Chair, Subcommittee on Water and Power
Committee on Foreign Relations
Chair, Subcommittee on East Asian and Pacifi c Affairs
Committee on Environment and Public Works
Committee on Indian Affairs